14 // Training Camp Winner – Mark
September 20, 2022 at 7:40 am
by
UBX
Introducing Mark, our 14 // Training Camp Major Prize Male Winner.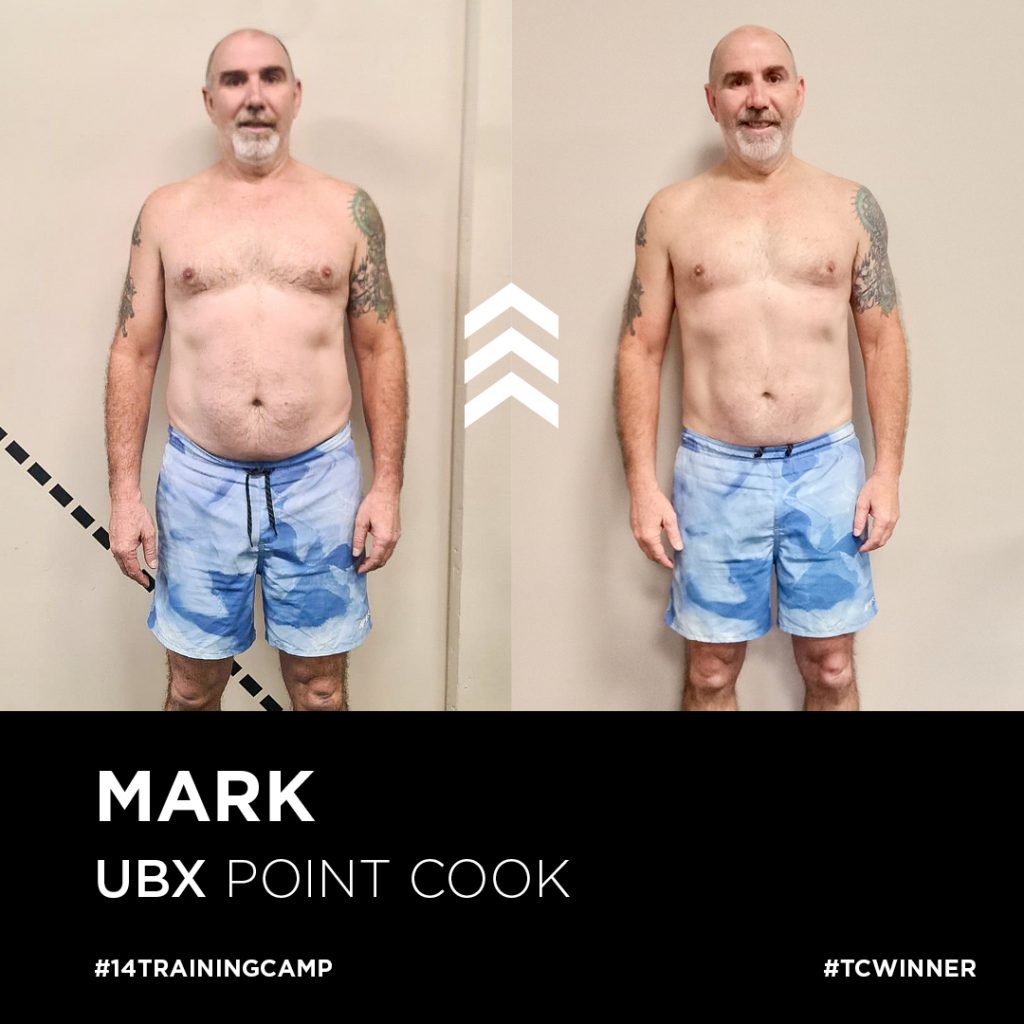 Mark has been a member at UBX Point Cook since January 2021, initially joining just as Victoria was reopening after a prolonged lockdown, ready to get back into shape.
After his first challenge at the start of the year, Mark found himself back in and out of lockdowns, determined to keep active with the help of online sessions from his UBX coaches, but ultimately found it difficult to maintain a routine and stay on track with his nutrition.
Coming into 2022, Mark's focus was on getting back on track, adjusting to life working from home, as well as running his business and sending his 6 year old off to school for the first time.
His aim was to keep things simple, create a routine and find consistency in his training and overall fitness journey.
As the 14 // Training Camp approached, Mark took the opportunity to take his training a lot more seriously. Committing to the 6 weeks and getting himself organised.
And the hard work paid off! Mark said his results even surprised himself, having seen all of the amazing transformations of other members in the gym he had no idea he could be our Training Camp winner – but the results speak for themselves.
Check out Mark's 6 week challenge transformation:
RESULTS
BENCHMARKS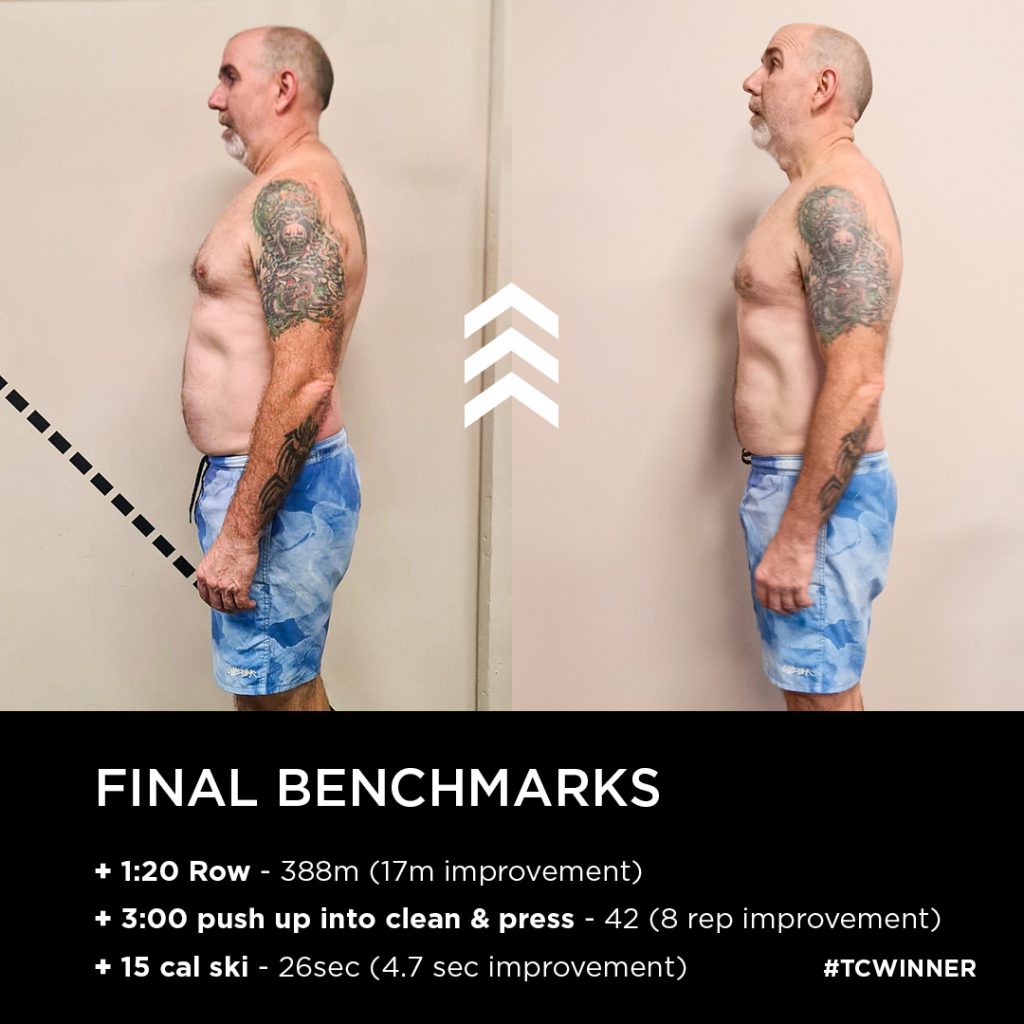 Our 3 Benchmark exercises are designed to track your athletic progression from the start of Training Camp through to the end of the 6 week challenge.
Mark improved across each of his benchmarks:
Anaerobic Conditioning – 1:20 ROW – 17m improvement
Muscular Endurance – 3:00 PUSH UP INTO CLEAN + PRESS – 8 rep improvement
Power – 15 CAL SKI ERG – 4.7 second improvement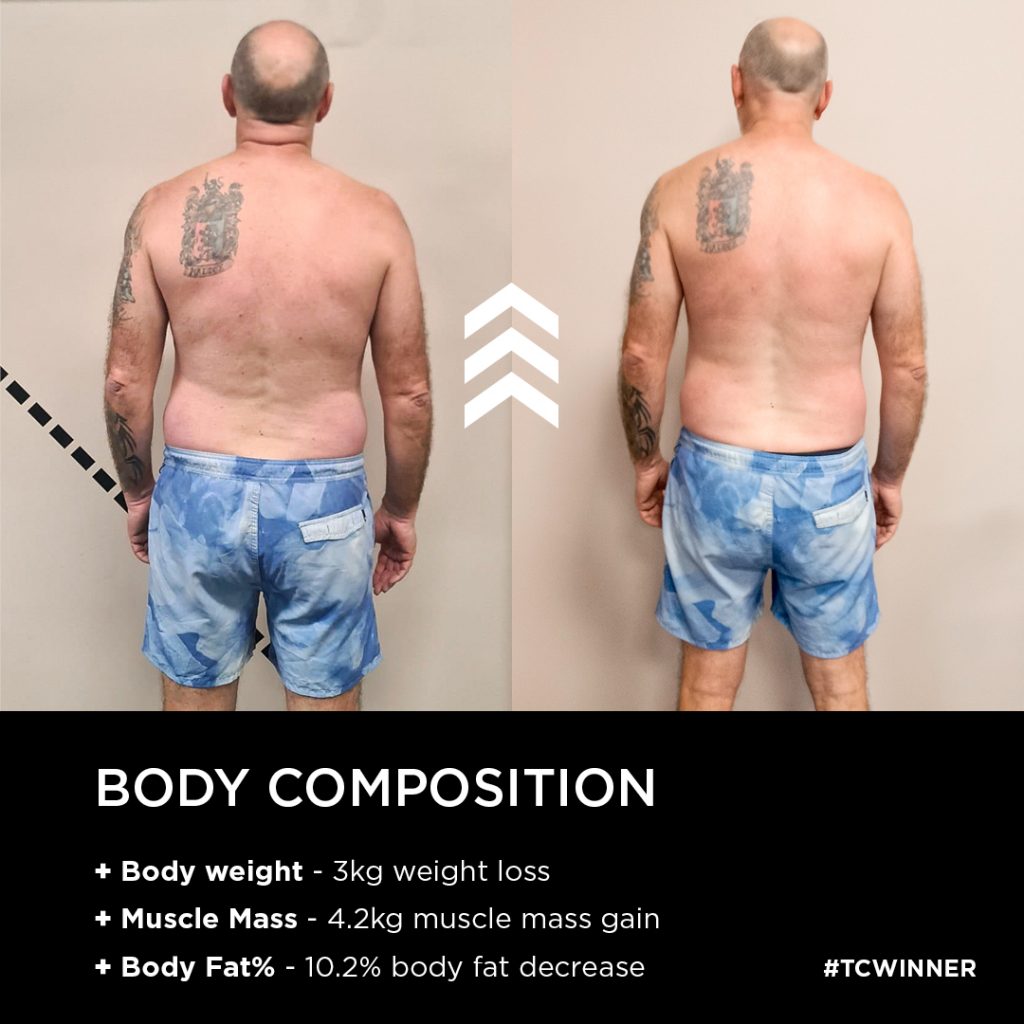 BODY COMPOSITION
Mark also saw incredible changes in his body composition:
Body Fat Percentage reduced by 10.2%
4.2kg of Muscle Mass gain
Total Body Weight loss of 3kg
Our Training Camp provides our members with the Training, Nutrition and Mindset guidance to transform in just 6 weeks – and this was Mark's experience:
TRAINING
What was your approach to the Training?
"It was a continuation of my normal training, but I also took the opportunity to take it seriously for those 6 weeks.
It can be easy to find excuses sometimes with training, to just take it easy, but committing to the challenge took away all those excuses.
I would aim to burn a certain 800-900 calories every workout throughout the 6 weeks. And as my fitness increased throughout the 6 weeks, I found I was getting more and more out of it, where I was getting towards 1000+ calories just by being able to put more into each session."
What helped you to stay consistent?
"So this year has been a big journey getting back into normalcy for me. But I wanted to keep things simple, get into a routine and be consistent.
I've been fortunate to still work from home, so that's made things a lot easier for me to prioritise my training, having a little more time to get there.
The opening hours are awesome, I'm usually an early riser and having the gym open so early is perfect for me to get up, go to the gym and still have time to get ready for the day.
But I also really look forward to every session. It's such a community at UBX Point Cook; it's so encouraging.
It makes it easier to workout because everyone's just there to have fun. You go in, you get your 45 minutes done and you just have fun.
When you enjoy doing things, it's a lot easier to be consistent and stick to it to get the results.
Every single person there, not just the owners but every single trainer is genuinely interested in you and what you want to get out of it.
Then when you look around at the members, there's all ages, shapes and sizes; it's so diverse but we're all there for the same thing – to better ourselves and be fit and healthy."
NUTRITION
What was your approach to the nutrition aspect of the challenge?
"Getting my first scan was a bit of a reality hit of how Covid had impacted me, I realised how much I had essentially been gravitating to food whenever I wanted, whenever it was convenient. I wasn't in the best shape.
I used the Training Camp meal plan as a guide and personalised it from there.
I was very conscious about balancing my calories throughout the day and across my meals. I used a lot of the Training Camp meals, but changed things to suit my preferences, keeping things close to my personal caloric intake goals.
I was also really intentional about having a good serve of vegetables and source of protein for every meal.
The snack options were great, because I'll often gravitate towards a slice of bread as an easy snack staple, but I would end up putting a whole lot of butter onto it (if I could still see bread underneath the butter, there wasn't enough!). So, I tried to minimise that and replace it with other easy alternatives – so the Training Camp app was great for that.
You still need to reward yourself. I'm not a professional athlete but I still have my goals. So I wasn't super strict, I would allow myself to have a treat if I knew I'd worked hard for it.
Hydration was massive for me, I knew I wasn't drinking enough water on a daily basis so I was really intentional about always having a drink bottle on hand, and finding ways to increase my water intake.
I also supplemented with protein and magnesium after it was recommended as part of the Training Camp, and educated myself further on their benefits so I knew they would help with my progress."
MINDSET
What are some additional activities you incorporated throughout the challenge?
"There was a bit of planning to how I approached my challenge, but I was also just really conscious about balancing things out throughout too, beyond the training.
Like taking time throughout the day to sit in the sun, be out in nature, and take a moment wherever I could."
How are you feeling post-Training Camp?
"My energy levels are so much better. I notice it every day. As soon as I wake up and every time I'm at the gym."
ADVICE
What advice do you have for other members taking on the Training Camp – 6 week challenge?
"Block out the noise. That noise in your head can be your biggest enemy.
You might not get the results that you're wanting straight away but that's just that noise creating doubt and telling you where you're at isn't good enough. And that noise can lead to bad habits.
Think about how you're feeling, how your clothes are feeling on you. Just because you don't have a 6 pack doesn't mean you aren't healthy.
Depending where you are, it might take more than 6 weeks to get to where you want, and that's okay."
Show yourself what your made of – to learn more about the Training Camp and see when our next 6 week challenge starts, head to: thetrainingcamp.com