UBX Member Story – Amy
March 3, 2021 at 6:22 am
by
UBX
'I FIGHT FOR SELF-LOVE AND MY CHILDREN'
Amy is a single mother of two who lost over 28kg last year with UBX, even after gaining 15kg during Covid-lockdown.
Last year we had 4 x Training Camps, including 1 during our global club closures. Amy did all of the Training Camps except for the At Home Training Camp . However, this made her even more motivated when she tackled the final two challenges of the year.
Amy signed up to UBX with her friend Emma who won the 05 // Training Camp at the start of the year which motivated her to try and do the same. She then won her club, UBX Wagga Wagga's prize for top female results in the 07 // Training Camp, but didn't win the International Prize from HQ. It wasn't until the 08 // Training Camp when Amy was named international female winner just before Christmas 2020.
So, let's meet Amy…
Hi! Im Amy, I'm 39 years old, and a happy single mum of a 4-year-old daughter and 3-year-old son. I worked as a photographer, designer and publisher for 17 years, but whilst pregnant, I created an innovative pregnancy product called "Belly Bunker", then another business called Pregnantville, which I now work in full time.
Working for myself gives me so much flexibility for work, training and my kids. Especially my daughter who is autistic. I can take her to appointments, and carry a lot less stress knowing that if my children need me I can be there for them.
Being a single mum drives me in health and fitness.
I wanted to ensure that I have the ability to keep both my children safe. When I was 30, I was diagnosed with multiple brain tumours in emergency. Later of which I had 2 removed. After this health scare, and moving to Wagga Wagga after 15 years of living in Darwin, I knew it was time to regain my fitness levels and sign up to a gym.
Two of my friends had just joined the newly opened UBX club in Wagga Wagga. I have always loved boxing but had never heard of UBX before. I signed up with my friend and we did the first challenge as a team. We came 1st and 2nd and she won the International prize.
UBX for me isn't just about physical fitness, it's my social life, my mental therapy and my fun.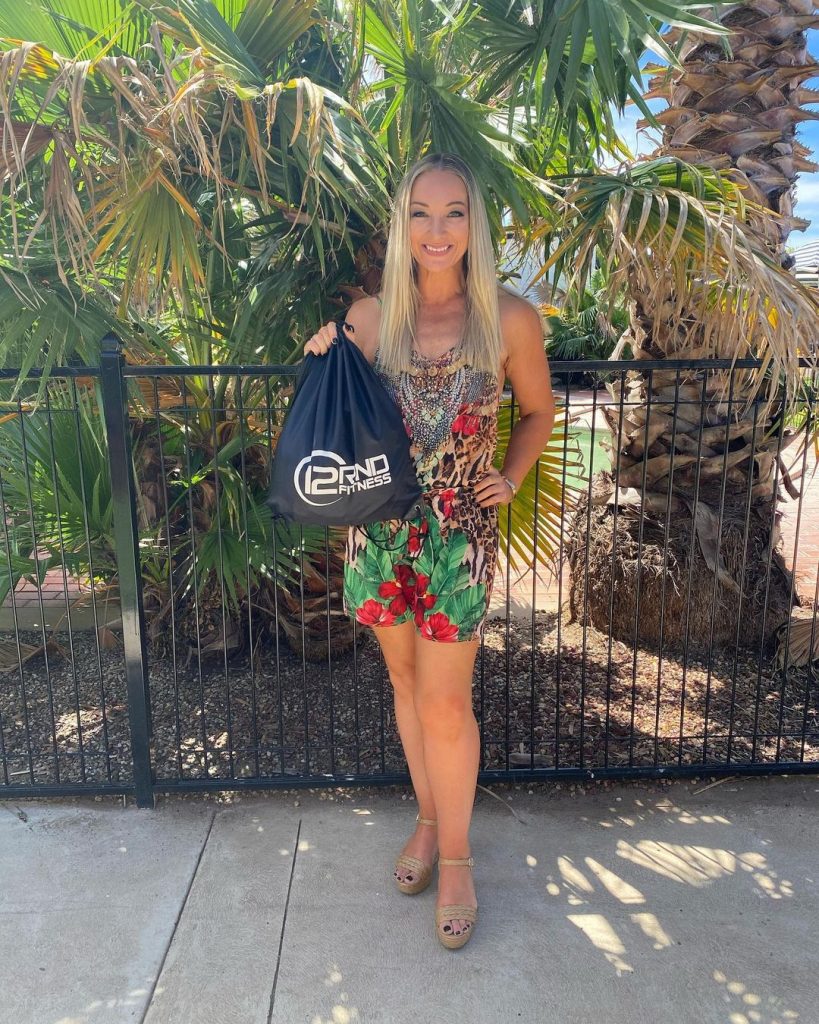 It's like going out and doing a dance routine, but a boxing combo instead. I've been a member for 1 year, and I'm just about to hit 200 visits. Overall, I've lost 28kg of Body Fat (over 30kg in overall weight) since I started with UBX, through the seasonal Training Camps.
I found the Covid lockdown the hardest. I knew as soon as the club closed, I was in trouble because I love the group atmosphere, and it was nearing Winter. It was my first Winter away from sunny Darwin in 15 years, so I really struggled to get out and stay active. I ended up gaining over 15 kilos.
I immediately went out and got myself some fitness gear for home, but as lockdown continued and it got colder, I really started to struggle. I fought so hard to stay on top of my health and fitness but the hot soup, bread, butter, wine and chocolate whilst wrapped in an electric blanket won. I was so embarrassed. I never want to feel like that ever again.
When the clubs opened back I was relieved. Physically, going slowly helped me to re-establish the mental mind-set to focus on my goals and re-establish better behaviours. I couldn't wait to get back into Training Camp. I gave the next two Camps everything I had.
I dedicated that time to me. I did not let anything beat me.
During the 07 // Training Camp I was told I needed a full knee replacement, that I had the knee of a 60-year-old with extreme osteoarthritis. That meant, no running, no jumping and no squatting allowed. Then I was told I have skin cancer, and to top it off a shoulder injury that just kept popping out.
Out of the 15kg I put on during Lockdown, I lost 12.1kg in the 07 // Training Camp, so I wanted to keep going! During the 08 // Training Camp, my goal was to push my mind and my body further than I have before. I was in such a great headspace from the one before. I had already shed body weight from the previous camps so I was ready to really focus on my body composition scans.
The Training Camps mentally challenge me like nothing before. For the first time ever, other than being pregnant, I cut alcohol out completely for 6 weeks. I followed the Training Camp meal plan as closely as possible but tweaked recipes here and there. I also allowed one meal a week of my own choice, something that I looked forward too. I started incorporating active recovery with Sunday bike rides. I just enjoy being active.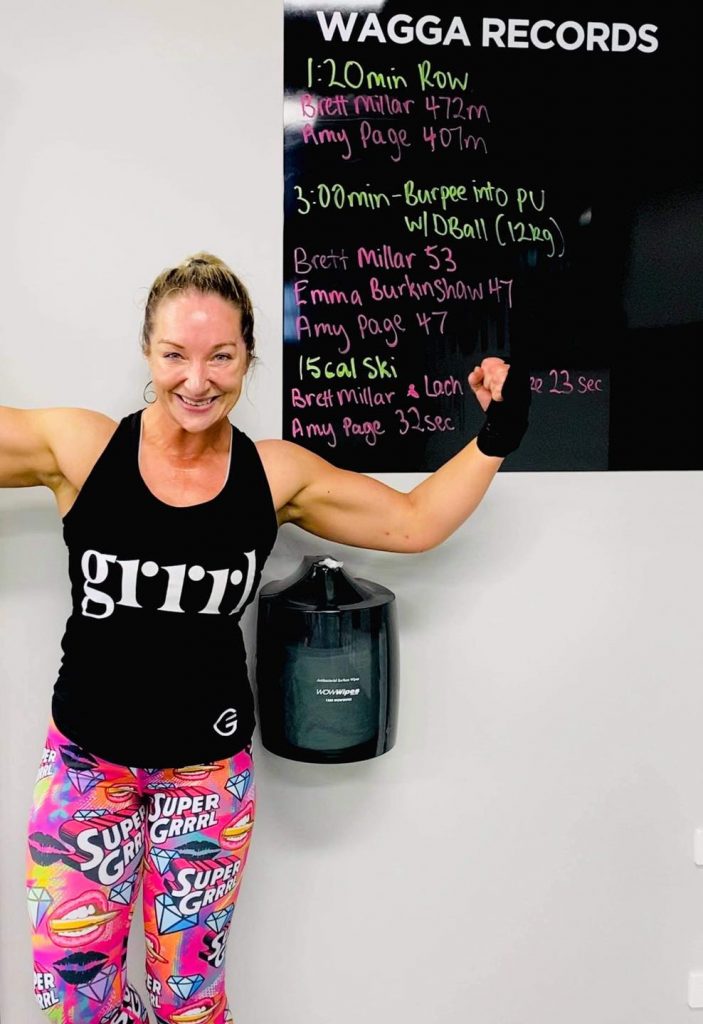 When I stepped on the scanners and saw my results, I was so happy.
It's so important to chose "YOU" for 6 weeks. It's only 6 weeks. Picture yourself on that final day of challenge in that winning mindset and think about how good you feel in your new body. Then picture not putting in the effort, not seeing those results, regretting it and looking at everyone else who did do it. Saying no to people can be hard, but this is your life not theirs. They will be there in 6 weeks. Choose YOU.
For the rest of my life, I just want to be better. It's not about winning anymore, it's just about me, growing, living and hopefully inspiring others with the changes that I've made to be the happiest version of themselves too.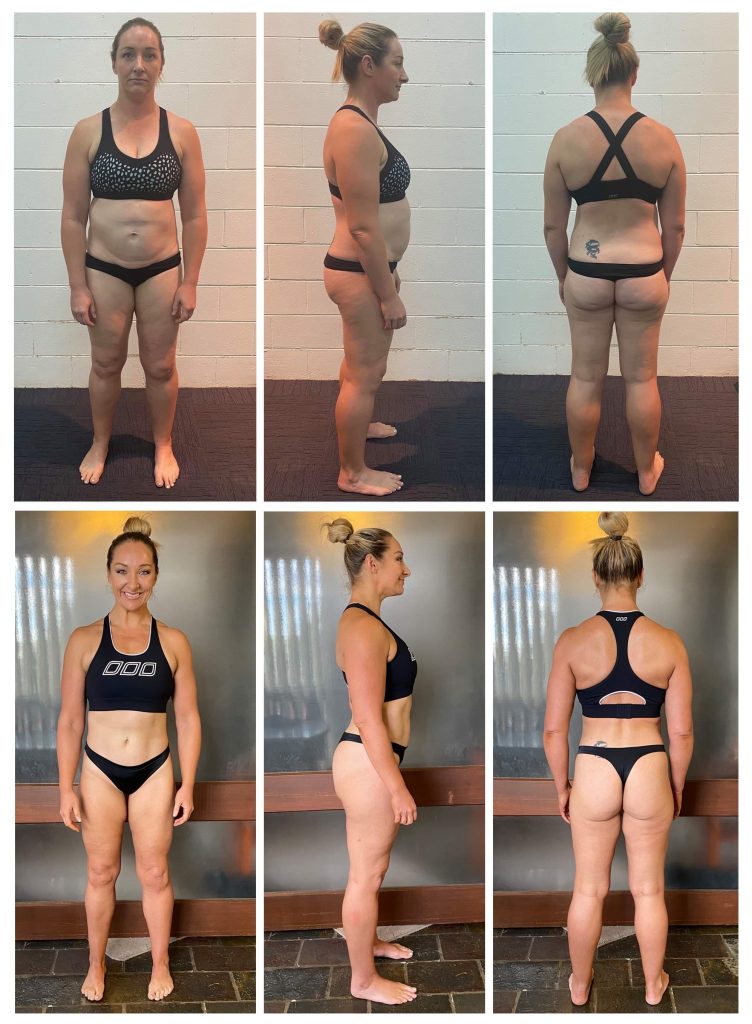 Congratulations Amy, and to all those fighters who have seen amazing results from our Training Camps, you too have inspired us all and together, we encourage you to KEEP ON FIGHTING!