12 // Training Camp Winner – Tim
December 17, 2021 at 5:53 am
by
UBX
Introducing Tim, our 12 // Training Camp Minor Prize Male winner.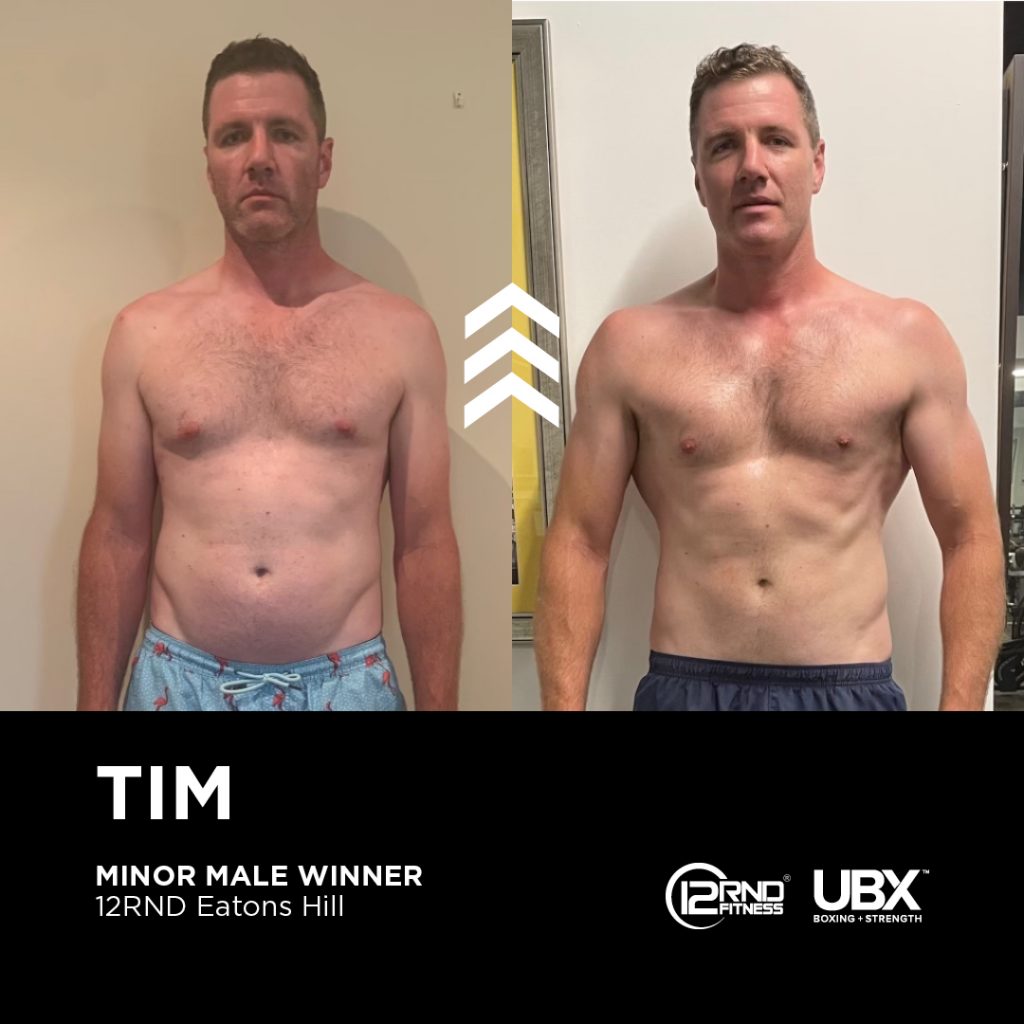 As a business owner and dad of two, Tim and his wife, Karina (our other Minor Prize winner!) lead a busy schedule but stay committed to keeping g a healthy balance of work and family life.
In his younger years, Tim was involved in a variety of sports competitively, but after a knee reconstruction he needed to find something that wasn't as jarring on his body.
A year or two after the initial operation and post-surgery recovery, Tim and Karina started UBX, and I hadn't done boxing before which was a great challenge for him.
Tim said, "I enjoy the fact that I'm still learning through the boxing. I've never liked gyms, the idea of pumping weights just never got me excited. But at UBX, I got really excited about the combination of cardio, strength and sports through boxing."
Our Training Camp provides our members with the Training, Nutrition and Mindset guidance to transform in just 6 weeks – and this was Tim's approach:
TRAINING
What was your approach to the Training?
"I've actually had a few issues with my back so I've had to make a few adaptations to continue with my training without injuring myself further or doing any damage. It's great with UBX though, I can easily incorporate skipping or other alternatives, the format is so great for providing that ability to make adjustments.
Karina and I take turns in the morning to go to the gym and get the kids ready for school so we always make time for our daily workout."
NUTRITION
What did your daily nutrition look like?
"This was the first time I've ever managed my macros to be more intentional about what foods I ate, how much, and how often.
Having done challenges in the past and following the meal plan without adaptations to suit my size at 6ft5, I had a realisation that I needed to eat what was right for me.
So this challenge, I feel like I'm taking away a lot more knowledge about foods and their nutritional content. I have more clarity around exactly what foods work for me."
MINDSET
How did you stay focused and consistent throughout the challenge?
"The team at UBX Eatons Hill incredible, we really love the culture of the gym, it's one of the main reasons that we go back. Everyone has a good go, there's friendly banter and we all push each other."
How do you feel post-Training Camp?
"I feel fantastic. My energy is strong because I understand better how to fuel myself especially for my training. And looking in the mirror now is an automatic boost."
ADVICE
What advice do you have for other members taking on the Training Camp – 6 week challenge?
"Ask a lot of questions with your trainers. And investigate the nutrition further and educate yourself on why certain foods are important for you and what they do for your body."
Show yourself what your made of – to learn more about the Training Camp and see when our next 6 week challenge starts, head to: thetrainingcamp.com